BILLABONG HISTORY
Billabong brings you a family of vans all built right here in Australia,
providing the best value and quality for your needs.

In The Beginning
Billabong Caravans was established in 2011 and during this time built a range that took Australians near and far.
In 2022 Billabong saw new owners take over. The Price family purchased Billabong Caravans and have since continued to build the brand and take it to new levels.
The workmanship, quality and standards have evolved over these few years, showing the passion for the product and the brand.


The Future
Billabong Caravans have built the competency and understand how important it is to maintain standards around, design, sourcing, manufacturing and customer service.

Billabong Caravans will continue their passion in engineering, design and 'user experience' to bring you the most innovative options!
We look forward to seeing many many more Billabong's on the road and welcome you all to join the Billabong community.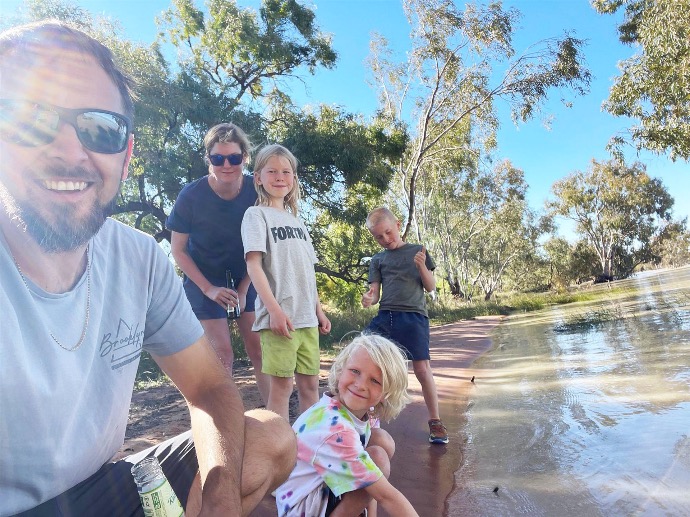 ABOUT THE NEW OWNERS
The Price Family has a passion for travel.
Caravan sales and design was a natural fit for the family as they have been camping since they themselves were children and now with 3 boys of their own, travelling is a core belief they are instilling in their way of life.
They are also the owners of Rowville Horse Trailers, a successful premium brand that is recognised for quality and innovation. It has won awards for design, including the Equivan – the first horse float/caravan hybrid vehicle.

Prior to Rowville Horse Trailers, their previous company was another Australian manufacturing company in automotive - supplying many of the OEM such as Holden, Mazda, Nissan, etc. along with 1,000 aftermarket retails around Australia.

Like a lot of us, the Price family love having good times together. They love nothing more than taking off in a van, free-camping and finding those secret spots in Australia we all love to stumble upon along the journey.

They are keen travellers. You can be sure that Trevor and his family have the same interests at heart as the caravanning community when they rig up the van and take off.

WHERE ARE BILLABONG CARAVANS MADE?
Billabong Caravans are Melbourne made and are about as Australian as a caravan can get. We have an Aussie owner who has sourced the best Aussie parts and component manufacturers going around.
AUSTRALIAN MADE
Made and manufactured in Melbourne, Australia.
GREAT VALUE
Premium quality and unbeatable value.
QUALITY BUILT
Built with attention to detail and high quality.
NATIONWIDE WARRANTY
Offering a nationwide warranty so you can have peace of mind.